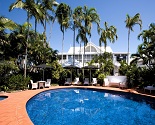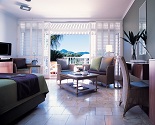 Located only one block from the famous Cairns Esplanade you will find the Hotel Cairns.  This remarkable Queensland heritage style property catches your eye with its tropical style buildings and relaxed ambience.  Conveniently located, only a 5 minute walk to the main shopping and restaurant areas of Cairns.  Relax by the sparkling waters of the pool with beautiful garden surroundings, you will forget that you are in the Cairns CBD.
Many guests staying at Hotel Cairns like to book on for a hot air balloon flight with Hot Air Cairns, where they will be picked up from reception by their friendly bus driver.  You will head west to the Atherton Tablelands and Mareeba which is a 40 minute drive from Cairns.  See the city lights as you head up the Kuranda range before the sun has appeared for the day.  Experience the surreal sensation of a gently lift-off in a hot air balloon.  Watch as the kangaroos roam free below you and enjoy the 360 degree views of the mountain ranges, Granite Gorge and see Lake Tinaroo off in the distance.  Slowly come back down to earth and feel invigorated after breathing in the wide open spaces.  Hot Air Ballooning is one of the top 3 activities to do in Cairns along with the rainforest and the Great Barrier Reef.  
We suggest to enjoy the local town and to save costs on transfer fees why not meander along the picturesque Cairns Esplanade boardwalk to the Reef Fleet Terminal for your Great Barrier Reef tour, we suggest that you take at least 15 to 30 minutes to walk as there is a lot to see.  Enjoy the illuminated information boards that tells the history of the Cairns waterfront, there is also information on the plants and animals that make up the coastal environment here in Cairns.
The Plantation Restaurant to be found at the Hotel Cairns is popular with locals and visitors alike, known for it's "raffles hotel" décor and the use of local Chillagoe marble, dining here is like stepping back in time.  Indulge in the unique dining sensation of cooking your own meal on a hot rock or alternatively choose their wide ranging buffet dinner that features local Cairns tropical fruits like mangoes, bananas, paw paws and star fruit.  If you feel like leaving the Hotel Cairns to dine, just know that after a short 5 minute walk you will have a extensive range of restaurants to tempt your tastebuds ranging from the buffets inside the Cairns Night Markets for $6 a plate up to fine dining.  With three different room types to choose from, you will be able to find a room at the Hotel Cairns that suits your needs and budget.
The Hotel Cairns Accommodation: Images from GOOGLE
Cnr Abbott & Florence Streets, Cairns, Queensland, Australia

Make a booking Address:
The Hotel Cairns
Cnr Abbott & Florence Streets, Cairns
Queensland, 4870, Australia
Phone: +61 7 4051 6188
Email: r[email protected]

The Hotel Cairns Accommodation