From $399 – An Unique Christmas Gift
STEP 1
Pick next available date (recipient decides their travel date later).
STEP 2
Choose from 1 to 20 people to receive your gift voucher!
STEP 3
Press 'Book Now' to personalise and purchase your gift voucher.
Tour Code
GiftCClassicxmas
Embark on an Unforgettable Journey Above the Atherton Tablelands
Begin your day with a touch of wonder as you join Frank, Bob, Neil, and Josh for a serene ascent into the skies a short drive from Cairns or Port Douglas. This experienced team, with years of flying over the stunning landscapes of Mareeba, promises a flight that's as flawless as the sunrise.
Gather in the early morning light in Mareeba, a gem in the heart of the Atherton Tablelands, where your balloon takes shape against the backdrop of the waking town. There's a unique buzz in the air as the balloons inflate, setting the stage for an experience that's nothing short of magical.
Soaring over the Atherton Tablelands, you'll be captivated by a mosaic of rainforest-fringed mountains in the distance, and the patchwork fields below that have made this region famous. Each flight is a unique dance with the winds, lifting you up effortlessly to experience hot air ballooning at its finest.
Upon landing, celebrate the journey with a choice of a glass of bubbles or orange juice—a toast to the shared experience of flight. We complement your adventure with delightful snacks to savour as you reflect on your journey.
Ride Highlights
🎈 A breathtaking Hot Air Balloon ride
🥂 Celebratory toast and complimentary snacks upon landing
🏅 Personalized Flight Certificate to commemorate your adventure
📸 Complimentary Digital Souvenir Photo package worth $80
🚌 Complimentary return Air Conditioned Coach Transfers from Mareeba
Celebrate the land, the flight, and the company as you drift gently back to earth, carrying with you memories that are sure to last a lifetime.
Tour Code
GiftCClassicxmas
What to Bring
- 🧴Sunscreen
- 🎟️Your ticket
- 👟Walking shoes
- 📷Camera
- 🩳Dress casual outdoor layered clothing
- ❌White clothing not recommended
- 🧢Sun hat and sunglasses
- 💧Bottle of water
Information
- 🗓️Prices valid for travel until 31st March 2024. Conditions of Travel.
- 📞Call for Weight, Mobility, or Pregnancy queries before online booking.
- 💵Prices are $AUD per person.
- ⏰All times are an INDICATION only and do change summer/winter/spring.
- 🕒Exact start times given on receipt of your full booking details.
- ⚠️100% charge applies if passengers fail to show at pick up on the morning booked.
- 🔄Changes need 24hr notice, subject to availability (fees may apply).
- 📸Photos in packages are subject to availability. See Conditions of Travel, 21.4.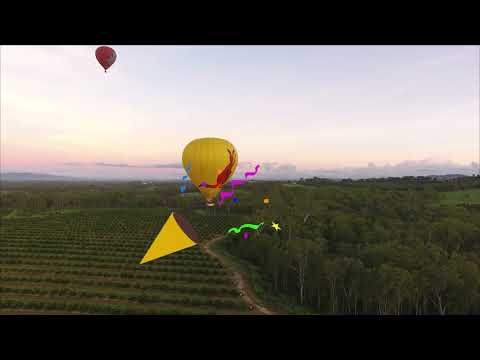 🎁 A truly unique gift for Christmas
🌟 Once in a lifetime experience
👩‍✈️ Expert staff to look after you all morning
🌄 We fly over the incredible Atherton Tablelands
📅 Redeemable for 3 years from purchase
🍪 Post-flight snack and drinks upon landing
📸 Digital photo package included
⏳ Offer valid until 26 December
🏆 Commemorative flight certificate
🚐 Transfer to and from the launch site from the meeting point
Give Someone Special a Unique Gift Voucher Today
BUY NOW
Common Questions
Click on the questions below to view their answers
Yes you can buy one of our gift vouchers which are valid for 12 months after the date of purchase. The recipient will just need to call up with the booking number when a date of travel is known.

It actually doesn't matter. There are two dates that make up a Gift Voucher - the purchase date, and the travel date. Our booking widget doesn't really account for this process, so we disregard the date that is selected and create a Voucher in our system that expires 36 months from the date of puchase. When the recipient contacts us to confirm the date that they would like to fly, we then make a confirmed booking for this requested date. In all cases, we need to be contacted by you or the Gift Voucher recipient to actually confirm a date of travel. But again, you have 3 years to decide!

We recommend you to bring some form of confirmation along as it helps our drivers to identify you on the morning. Should you forget please ensure you have some form of identification for the person whose name the booking is under.

If the voucher hasn't expired the purchaser of the gift voucher can be refunded the amount of the gift voucher. The recipient cannot receive the refund.

We fly everyday excluding Christmas Day and New Years Day, weather depending. We suggest to book your travel date as least a week in advance but sometimes there is availability for our flights a couple of days before.

If we have to cancel due to bad weather we will give you the option to rebook for another day, leave the Gift Voucher open dated so you can contact us in the future to rebook, or the Gift Voucher purchaser can be fully refunded. We have a very high take-off rate and have the best locations in the world for reliability & hot air ballooning.

Our hot air balloon Gift Vouchers are valid for 36 months from the date of purchase. The Gift Certificate recipient can book in a date that suits them to travel. The details are on the voucher for them to know how and when to book in their date. We recommend to book at least a week in advance.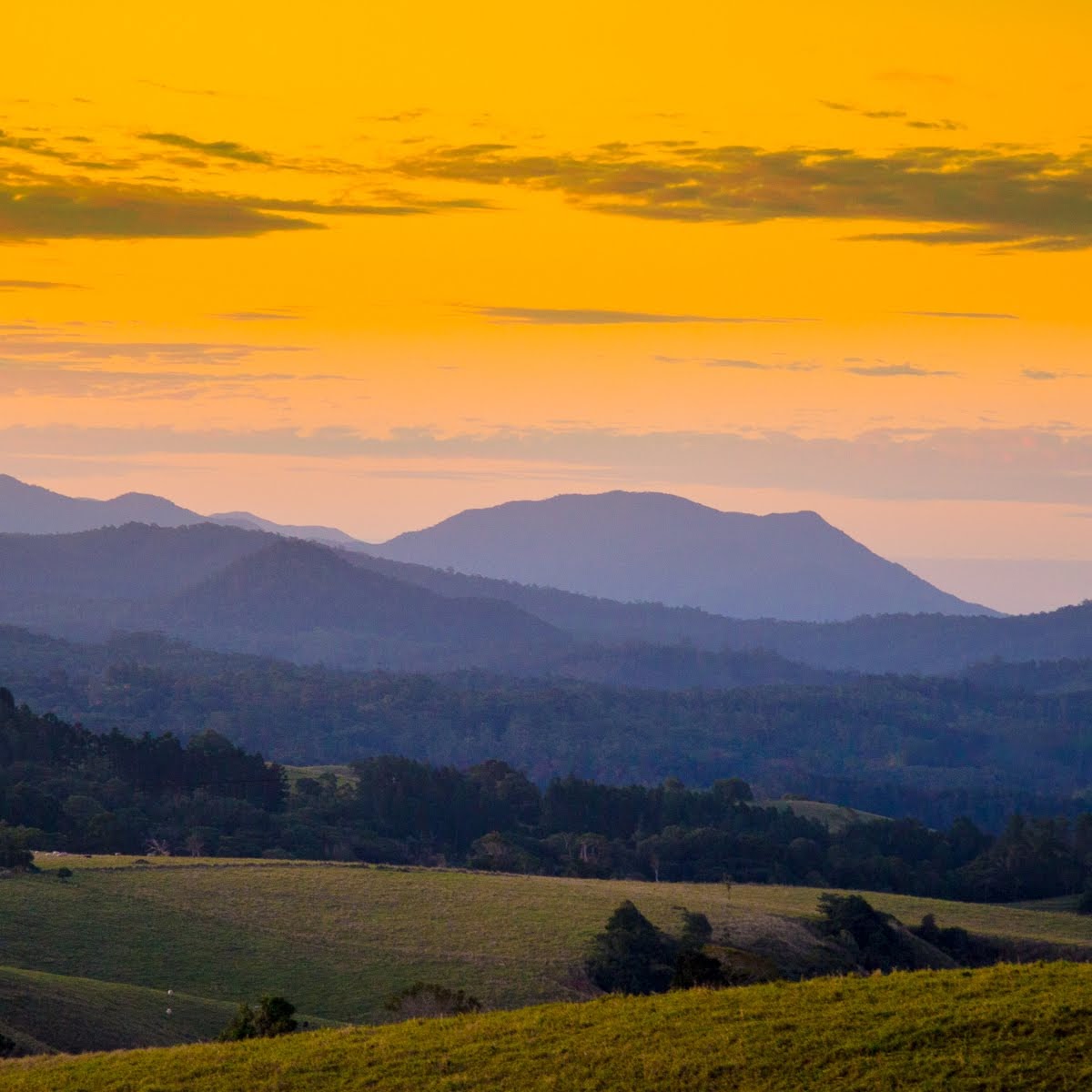 Flight Location: The Atherton Tablelands
Approximately 45 minutes west from Cairns and 1 hour from Port Douglas, the Atherton Tablelands are an area renowned for their fresh produce, fascinating geological features, and their rich indigenous culture and colonial history.

A natural highland plateau, starting at around 900 feet above sealevel, the region around Mareeba at the gateway to the Tablelands provides perfect conditions for hot air ballooning, with consistent weather, stable wind conditions and breathtaking views.

From Mareeba, self-drive options allow you to explore the rest of this wonderful region, with opportunies for hiking, 4WD adventures, world-class mountain bike tracks, and multiple waterfalls and natural swimming pools.
Your Itinerary
Times vary seasonally
04.00 - 05.00AM

Our professional team meets you when they pick you up from your accommodation (or meeting point in Mareeba) and take you to the launch site.

05.00 - 06.00AM

Arrive to see the spectacular sight of your hot air balloon inflating before up, up and away! Take off and experience the unique sensation of hot air balloon flight.

06.00 - 07.00AM

Take in the landscape at dawn over the Atherton Tablelands as the day begins. Fly gently and relax before a gradual descent and landing.

07.00 - 08.00AM

Enjoy a glass of bubbles and chat with your pilot and crew. Return transfers to your vehicle at the meeting point, or depart Mareeba in our transfer bus for Cairns city.
Our Crew
Your balloon team will consist of your support crew and your Pilot. Your Pilots Jay and Frank have a combined 40 years of flying experience. All team members are professionally trained in safety and operation of hot air balloons.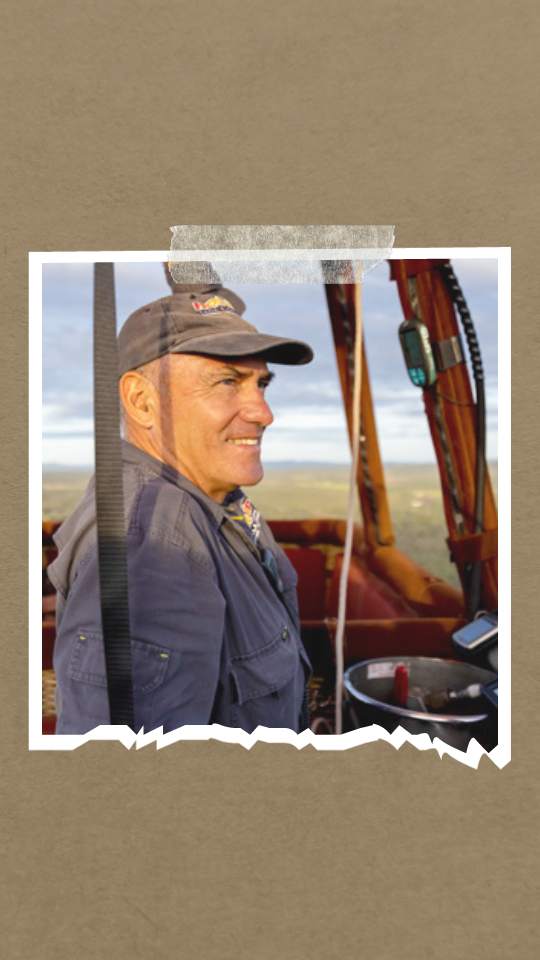 Meet Frank Bouwer
Navigating the serene skies of the Atherton Tablelands, you'll find Frank Bouwer, a seasoned Hot Air Balloon Pilot whose story begins amidst the freedom of Kenya's open plains. His journey has taken him from the vibrant savannas to the South African seas as a skilled mariner, where he honed the art of navigation and leadership—skills that seamlessly transitioned into his current passion for ballooning.
With over a decade in the skies, Frank has become synonymous with the Cairns ballooning experience. Each flight is a canvas of the diverse landscape below, from Mareeba's rolling hills to winding rivers, offering passengers a glimpse through Frank's adventurous eyes. His calm expertise and warm camaraderie turn every balloon ride into a personal narrative, full of shared moments and breathtaking sights.
Frank's flights are not just about the elevation but about the connections made and stories shared, high above the land he now calls home. Join him for an adventure that transcends the ordinary, leaving you with more than just memories—an experience etched into the soul, against the backdrop of Australia's stunning natural beauty.