From $399 – An Unique Christmas Gift
STEP 1
Pick next available date (recipient decides their travel date later).
STEP 2
Choose from 1 to 20 people to receive your gift voucher!
STEP 3
Press 'Book Now' to personalise and purchase your gift voucher.
Tour Code
GiftGClassicxmas
The Flight of a Lifetime Awaits
Rise early for an adventure you won't forget! Join our expert pilots Jay, Stuart and Dhawal, for a seamless journey to the skies. With combined decades of flight mastery, they make every launch an event of its own, marked by the day's first light. Meet your pilot in Beaudesert before being transported a short ride to the launch site. Their incredible knowledge and their passion for flying is infectious, making this experience unlike anything else.
You'll experience the magic of the balloon inflating before launch in the early dawn which is an experience in itself.

The Scenic Rim is a region renowned for its natural beauty and provides perfect conditions for a balloon flight, with temperate weather, stable wind conditions and breathtaking views. Flying to the conditions, most flights are between 50 to 65 minutes, and up to 4,000 feet above the volcanic paradise, rolling green pastures and waterways of the Scenic Rim. With no two flights ever the same, the joy of the journey is as much the destination as the launch—embrace the uniqueness of your own flight and find serenity above the clouds.
Ride Highlights
🎈 Spectacular Hot Air Balloon ride
🍷 Wine tasting
🏅 Commemorative Signed Flight Certificate
📸Free Digital Souvenir Photo package worth $80
🏰 Free entry to O'Reilly's Grand Homestead and Vineyard and extensive grounds
🍳 Full hot breakfast and sparkling wine, authentically from the O'Reilly's Vineyard
🚌 Free return Air Conditioned Coach Transfers from Nerang or Canungra
🦙 Meet the delightfully friendly O'Reilly's Vineyard alpacas
Tour Code
GiftGClassicxmas
What to Bring
- 🧴Sunscreen
- 🎟️Your ticket
- 👟Walking shoes
- 📷Camera
- 🩳Dress casual outdoor layered clothing
- ❌White clothing not recommended
- 🧢Sun hat and sunglasses
- 💧Bottle of water
Information
- 🗓️Prices valid for travel until 31st March 2024. Conditions of Travel.
- 📞Call for Weight, Mobility, or Pregnancy queries before online booking.
- 💵Prices are $AUD per person.
- ⏰All times are an INDICATION only and do change summer/winter/spring.
- 🕒Exact start times given on receipt of your full booking details.
- ⚠️100% charge applies if passengers fail to show at pick up on the morning booked.
- 🔄Changes need 24hr notice, subject to availability (fees may apply).
- 📸Photos in packages are subject to availability. See Conditions of Travel, 21.4.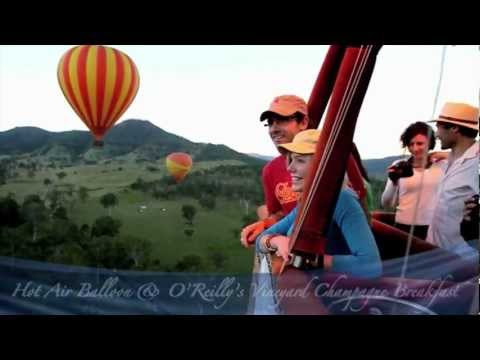 A truly unique gift for Christmas
Once in a lifetime experience
Expert staff to look after you all morning
We fly over the incredible Gold Coast Hinterland
Redeemable for 3 years from purchase
Breakfast at the unique O'Reilly's Canungra Valley Vineyards
Visit the Alpacas whilst enjoying the grounds at breakfast
Digital photo package included
Offer valid until 26 December
Commemorative flight certificate
Transfer to and from the launch site from the meeting point
Purchase a Unique Gift Voucher Today
BUY NOW
Common Questions
Click on the questions below to view their answers
Yes you can buy one of our gift vouchers which are valid for 12 months after the date of purchase and just call up with the booking number when you have picked a date.

We recommend you to bring some form of confirmation along as it helps our drivers to identify you on the morning. Should you forget please ensure you have some form of identification for the person whose name the booking is under.

If the voucher hasn't expired the purchaser of the gift voucher can be refunded the amount of the gift voucher. The recipient cannot receive the refund.

We fly everyday excluding Christmas Day and New Years Day, weather depending. We suggest to book your travel date as least a week in advance but sometimes there is availability for our flights a couple of days before.

If we have to cancel due to bad weather we will give you the option to rebook for another day, leave the Gift Voucher open dated so you can contact us in the future to rebook, or the Gift Voucher purchaser can be fully refunded. We have a very high take-off rate and have the best locations in the world for reliability & hot air ballooning.

Our hot air balloon Gift Vouchers are valid for 36 months from the date of purchase. The Gift Certificate recipient can book in a date that suits them to travel. The details are on the voucher for them to know how and when to book in their date. We recommend to book at least a week in advance.

The date selection in the booking widget is a formality for voucher purchase and does not determine the actual flight date. Upon purchase, we issue a voucher that remains valid for 36 months. The actual date of the balloon flight will be chosen by the voucher recipient, who can contact us at their convenience to schedule their experience. Please note, a confirmed travel date requires direct coordination with our team, which can be initiated by either the purchaser or the recipient at any point within the voucher's validity period. Rest assured, you have three years to plan for this amazing adventure!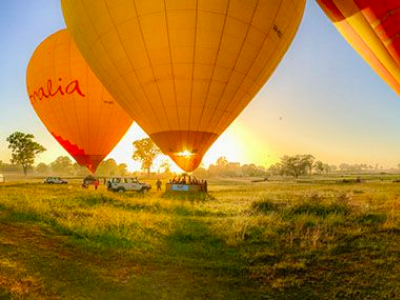 Flight Location: The Gold Coast Hinterland
Approximately one hour inland from the Gold Coast, the Hinterland(also known as the Scenic Rim) is a region renowned for it's natural beauty.

The Hinterland provides perfect conditions for hot air ballooning, with temperature weather, stable wind conditions and breathtaking views.

Our balloon launch site is specifically chosen to deliver sweeping views of Lamington National Park & Mr. Tamborine providing our customers with incredible photo opportunities and great views of local birds and wildlife.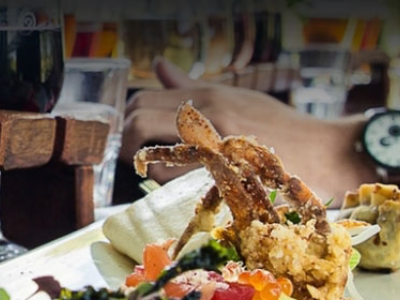 Breakfast O'Reilly's Grand Homestead & Vineyard
A short drive from the balloon landing site, O'Reilly's Canungra Valley Vineyard is a boutique vineyard and historic Queenslander homestead that is dedicated to food and wine.

Our gourmet breakfast here is a buffet of pastries, fresh juices, eggs & bacon, cereal & fresh fruit - not to mention The champagne! Feast in the historic dining room or on the veranda overlooking the vines.

Celebrating a special event? Why not meet with friends and family at O'Reilly's? Simply book online then contact us to discuss the details.
Your Itinerary
Times vary seasonally
05.00 - 06.30AM

Board your aircraft, meet your pilot and crew before taking off and experiencing the unique sensation of hot air balloon flight. Savour the Gold Coast Hinterland landscape as day begins.

06.30 - 07.30AM

Come back to earth and experience the magic of your giant balloon as it gently deflates.

08.00 - 10.00AM

Be transferred to O'Reilly's Vineyard for a full breakfast with sparkling wine. Wander the grounds of the Historical Homestead property and meet some of the wildlife! Return transfers to your pick up location.
Our Crew
Your balloon team will consist of your support crew and your Pilot. Your Pilots Jay and Frank have a combined 40 years of flying experience. All team members are professionally trained in safety and operation of hot air balloons.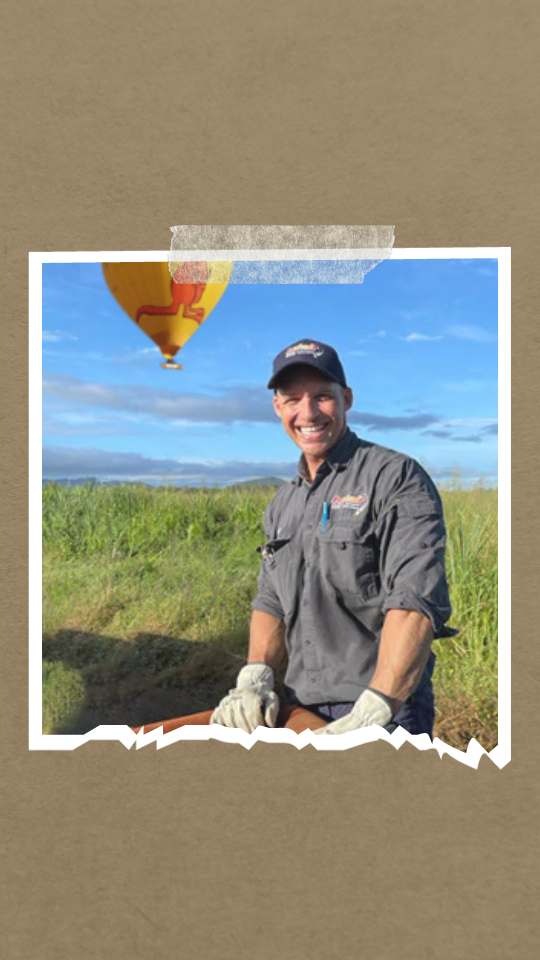 Meet our Chief Pilot, Jay
Jay Schesser, a pioneering pilot at Hot Air, has been setting the standard for balloon aviation for over 23 years. With flights across two continents, including the unforgettable Pilanesberg Game Reserve, he's led our skilled team with a focus on safety and excellence for 18 years.
Memorable Flights
Jay's most memorable flight was a family adventure along the Gold Coast, setting a record for the longest balloon journey in the area. His love for ballooning shines in the Scenic Rim's lush landscapes, though he dreams of flying over East Africa's wildlife migrations.
A New Day, A New Adventure
For Jay, each flight is a new chapter of adventure, offering peace, excitement, and a chance to share the magic of ballooning with others. Join him for an unmatched experience in the skies.