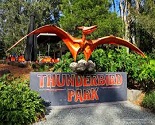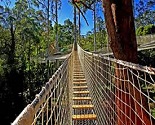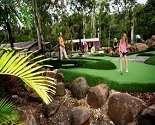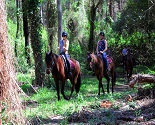 Discover ThunderBird Park in North Tamborine, an adventure destination over 112 hectares surrounded by rainforest.
Join the excitment with a range of activites. ThunderBird Park features Australias longest and highest adventure ropes course, with the tree top challenge with more than 100 challenges spread out over 6 course, across 9 acres of ThunderBirds park, balance on rope bridges, climb ladders, flying foxes and Tarzan swings. If you want to get thge adrenaline pumping ThunderBird has a Canyon Flyer which iconsists of 7 ziplines across Cedar Creek Canyon, more than 60 meters high reaching speeds up to 70 km's an hour. 
Discover hidden treasures from the prehisortic volcanic lava with ThunderBird Fossicking which is an activitey the whole family can enjoy, or take a relaxing trail ride through the rainforest on horseback, suitable for beginer to experienced riders.
Want something to get the heart pumping? What about Laser Skirmish at ThunderBird, hunt for targets through the rainforest usuing safe laser guns for a thrilling experience to battle for control of a fort.
Mini golf for all ages, beginner, intermediate and professional hole on each green, with real water hazards, bridges, bunkers, obstcles and rocks challenge yourself or you friends. 
Natural Rock swimming pool of clear mountain water cascading over boulders into the pools, perfect for cooling off on a hot day espcially after all the activites happening around the ThunderBird Park.
ThunderBird Park Attraction: Images from GOOGLE
Make a booking address:
Tamborine Mountain Rd & Cedar Creek Falls Rd
Tamborine
QLD 4272
Phone: +61 78 5545 1468
ThunderBrid Park