Cairns Classic Ballooning with Cairns Splash and Slide Waterfalls tour
Bundle and save!
Tour Code -
CClassicWaterfall
Ride Highlights
🚌Pick up from Cairns Hotels
💧Pre-flight fruit juice/water
🎈Spectacular Hot Air Balloon ride 
🎙️Expert commentary
🍾Glass of Sparkling wine and Juice on landing
📜Commemorative Flight Certificate
📸Digital photo package
Splash and Slide waterfall tour with picnic lunch
Pick-up at all Cairns accommodation & hotels by a Hot Air Balloon Cairns coach for your Hot Air Balloon ride.  There is a one hour transfer.  Pickup times are confirmed on booking.
Experience the fun & unique sensation of being in a Hot Air Balloon, flying gently high above the Atherton Tablelands, Australia. The balloon takes off from Mareeba on the Atherton Tablelands.  Enjoy the picturesque landscape at dawn, floating in your Hot Air Balloon, time to really breathe in the wide-open spaces!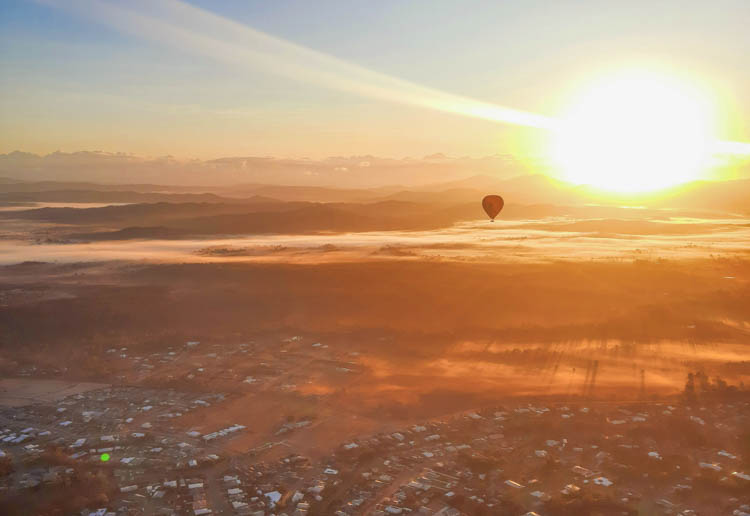 We have Australia's largest fleet of Hot Air Balloons and a fun and highly trained crew to maximise the enjoyment of your balloon flight.  It's just like a balloon festival, every day!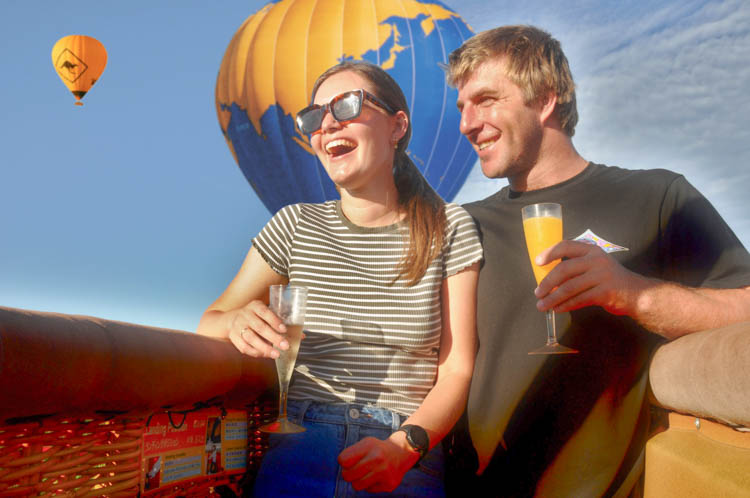 Our hot air balloon flights are more than an aerial adventure. Upon landing, you're invited to a post-flight celebration featuring an array of locally-sourced refreshments. Delight in a selection of fresh fruits, energising muesli bars, scrumptious muffins, and a delectable variety of savoury pastries and quiche. Pair these with our carefully selected sparkling wine or a refreshing orange juice, as you share your experiences and create connections with fellow adventurers, our pilot, and support crew. Please note, our offerings may vary to continuously provide you with the best of local produce.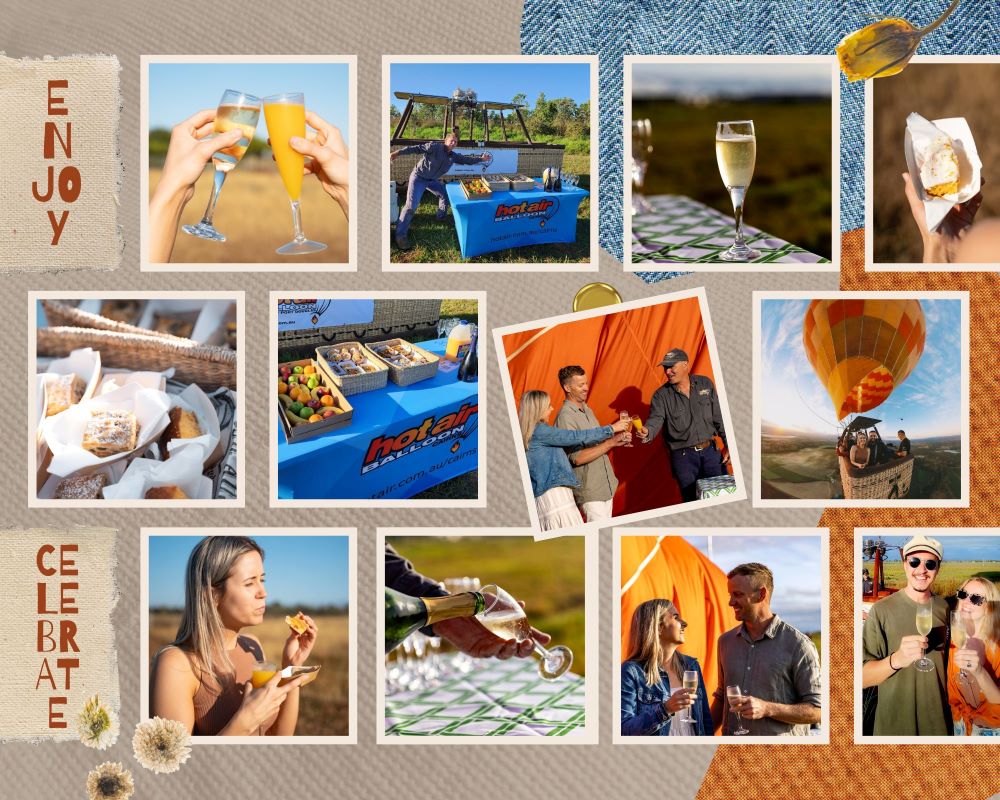 Tour finish time varies with the seasons and you will be dropped off to your meeting point for your Splash and Slide Waterfalls tour. 
Commencing with a laid-back 10 AM pickup, you'll embark on a journey through the breathtaking vistas of Queensland's tallest peaks, verdant cane fields, and unspoiled rainforests en route to Josephine Falls. Tap into your inner child as you embrace the world-renowned natural rock slide, gliding into the pristine, crystal-clear waters. This experience is ideal for both the youthful and the young at heart! As you wander through the lush rainforest, keep your eyes peeled for a chance encounter with some of the Far North's indigenous wildlife.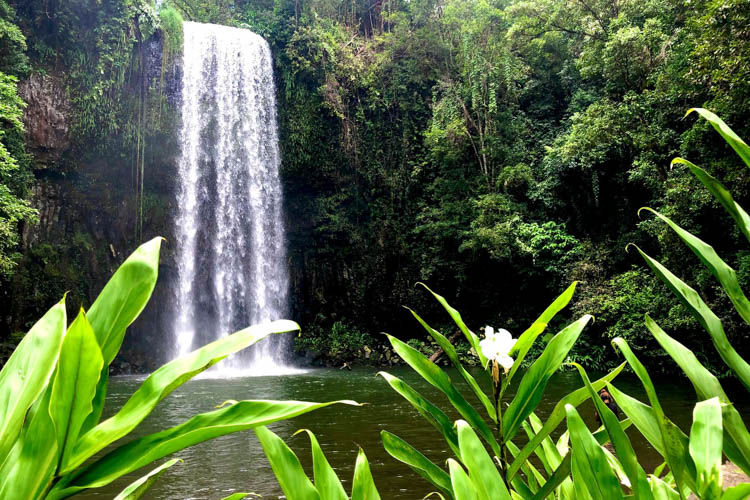 Our next destination is the renowned Babinda Boulders, where a delightful tropical picnic lunch awaits, featuring locally-sourced ingredients. Here, our knowledgeable guides will delve into the history of this culturally significant site, allowing you to savor a leisurely afternoon swim, relaxation, or further exploration before making your way back to Cairns.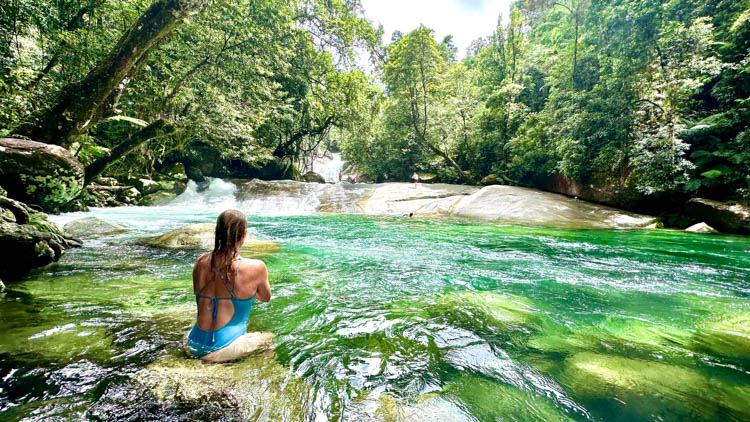 Hot Air Ballooning:
Complimentary digital photo package worth $80 auto emailed to you on the same day after your flight
Air conditioned coach transfers to balloon launch and landing sites
Free Hotel Pickups/Meeting Point Maps
Spectacular Classic Hot Air Balloon ride over the Atherton Tablelands
Light snacks and refreshments
Expert interpretive commentary
Hot Air Balloon Ride Commemorative Certificate
Cairns Splash and Slide waterfalls tour:
Local Guides with interactive commentary
Wet tropical World Heritage Rainforest
Josephine Falls
Babinda Boulders
Coach transfers
Picnic Lunch - (Please advise of any dietary requirements at the time of booking)
Tea & Coffee
Weather Considerations for Ballooning:
Hot air ballooning is contingent upon suitable weather conditions. Should we have to cancel due to unfavourable weather:
If you decide not to rebook or cannot find an alternative date for the ballooning experience, the Jetboating tour will still be available for you on the scheduled afternoon, however, the cost of the Jetboating tour will no longer be complimentary and the standard retail price of the Jetboating tour will be deducted from the original payment when processing your refund.
Refund Policy Following Rebooking:
If you reschedule hot air ballooning, attend the Jetboating tour before the rescheduled date, and subsequently decide to cancel the balloon ride within the acceptable cancellation timeframe, a refund is available. However, the regular retail price of the Jetboating tour will be deducted from this refund.
Your ticket
Walking shoes
Camera
Dress casual outdoor layered clothing. White clothing not recommended.
Peak Hat & sunglasses
Bottle of water
Spending money
Swimming clothes and towel - for waterfall tour
Tour Conditions:
Prices are valid for travel until 31st March 2024. Conditions of Travel.
Prices may vary by day, season, and/or availability. Price is displayed at checkout. 
For Passengers with Weight or Mobility queries please phone us to discuss before booking online.
Pregnant persons beyond 3 months (13 weeks) of pregnancy are not permitted to fly.
Prices are $AUD per person.
All times are an INDICATION only. Please note that times do change summer/winter/spring, exact start times given on receipt of your full booking details
100% charge applies if passengers fail to fly on the morning booked. 24 hours notice is required for changes. Re-booking is subject to availability and possible at a fee, please ask us.
Classic flight provides a full flight experience to suit the prevailing flying conditions
Where photos are included in your package, these are subject to availability. Conditions of Travel, 21.4.
For self-drive (drive to meet us) please check and plan your drive according to QLD Dept. of Transport and Main Roads Current Conditions.