Hot Air Balloon Cairns plus Skyrail and Kuranda Rail to Cairns City combo
Weekends $619. Finishes at Cairns Rail Station
Ride Highlights
🎈 Spectacular Hot Air Balloon ride
🥤 Pre-flight health shot beverage
🍾 Glass of Sparkling wine and Juice on landing
📸 Digital photo package
🚂 Kuranda Scenic Rail Train Ride
🕑 Free time to explore Kuranda Village and the Kuranda Markets
🚡 Skyrail Rainforest Cableway
Pick-up at your accommodation by a Hot Air coach for your special Cairns tour package, there's a one hour transfer through the Kuranda rainforest. Pickup times are confirmed on booking.
Experience the fun & unique sensation of a hot air balloon ride over the Atherton Tablelands, Australia. We fly at Mareeba in the Cairns Highlands. Enjoy the picturesque landscape at sunrise. Breathe in the wide-open spaces! We have Australia's largest fleet of balloons and a fun and highly trained crew to maximise the fun of your morning. It's just like a balloon festival every day!
Upon landing, you're invited to a post-flight celebration featuring an array of locally-sourced refreshments. Delight in a selection of fresh fruits, energising muesli bars, scrumptious muffins, and a delectable variety of savoury pastries and quiche. Pair these with our carefully selected sparkling wine or a refreshing orange juice, as you share your experiences and create connections with fellow adventurers, our pilot, and support crew. Please note, our offerings may vary to continuously provide you with the best of local produce.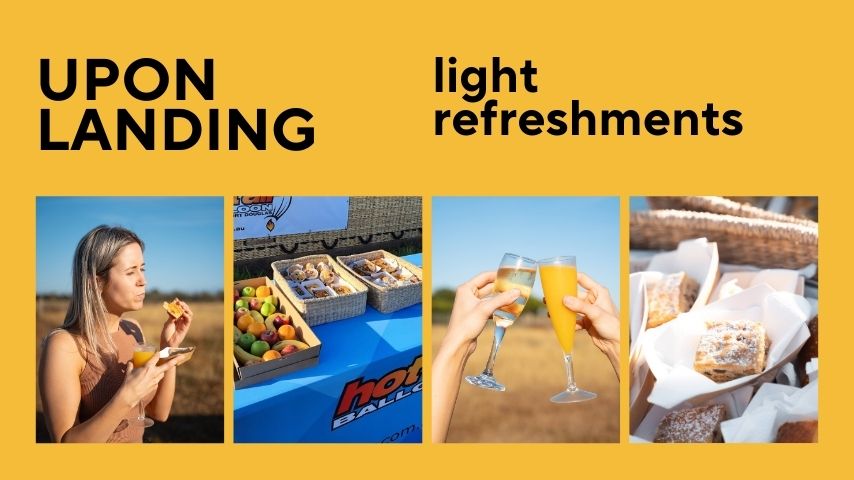 Arrive at the Skyrail terminal after your morning's Hot Air Balloon flight. Your driver will give you a voucher which will confirm the time you are booked to depart on the Skyrail and train. These times can be changed if available when checking in. 
Check in with the Skyrail ticketing office who will advise you when you are to board the Skyrail. Depending on how the morning is flowing with the Skyrail, you may be asked to join the que straight away otherwise take a load off for a little while or take a walk to use the facilities around the terminal while you wait for your departure time. 
Board your Skyrail and marvel at the many different shades of beautiful green in the Rainforest and spectacular views of Cairns going up and over the Kuranda range. It will take approximately 1 1/2 hours to get from the Smithfield Terminal to Kuranda. There are some exciting stops along the way as you change carriages. The first stop will be at the Red Peak Station where you can take a stroll through the rainforest on the 175mt boardwalk before boarding your next Skyrail to continue above the rainforest to the second stop at the Barron Falls Station where you can take a look at the interesting interpretive center. Guided ranger talks are also available, and please check with Skyrail for the timings.
At the Kuranda Skyrail Terminal, There are some refreshments and souvineers available for purchase as well. To get to the Heritage Markets from the Skyrail when you come out of the station turn right on the road that is in front of the station, follow the road around a sharp bend then two blocks up or less than 700 meters to reach the heart of Kuranda. In the middle of Kuranda the Information center is right there if you need any information on what you should see or if you need any directions to find anything around locally. 
Take a look around the small town of Kuranda. You will be able to cover most things in your time there. Take note of your Train departure time of 2pm and if you wish to depart on the later train at 3.30pm, you can change this with Hot Air or at the Skyrail station on the day (subject to availability). 
There are local markets daily where you can find souvenirs, artworks and artifacts. There are plenty of cafes and restaurants for something to eat and drink.  Some days you may spot some very talented local artist that do cartoon portraits on the spot for you. Depending on the Train departure you choose there are lots of additional activities such as the Butterfly Sanctuary, Australian Venom Zoo and much more. 
In the afternoon check in for your train ride on the Kuranda Scenic Railway with plenty of time as the train will leave on time. Travel on the historic mining railway line down the ruggard Macalistar range. First you will stop to see the dramatic Barron falls to get off and take photos. You will then trek down the winding mountain through many tunnels, witnessing panoramic views and waterfalls along the way. The train has a overhead audio playing throughout the journey pointing out places of interest and the amazing history of how the railway was built. This really is one of the most scenic train journeys in the world. In total will take about 1.5 hours.
You will finish at Cairns Central Station in the heart of the city and you will need to make your own way back to your accomodation from here. 
Before you book there are some options to consider for this package for both the Skyrail and Train Departures. You have the option to upgrade your Skyrail to the Diamond View for an additional $25 per person. This will mean you will have a window to see through on the bottom of your Skyrail cart giving you the best views of the Rainforest. Another consideration is the train departure time from Kuranda. You will be booked on the 2pm Train or if you wish to take a little bit longer exploring the attractions of Kuranda the later time at 3:30pm. Also on request is the upgrade to Gold Class for the train ride. For $49 you can sit in 1st class and experience silver dining and refreshments. All upgrades must be pre arranged prior to departure with Hot Air or on the morning when checking in at the Skyrail and are subject to availability      
Pick up from Cairns Hotels
Spectacular Hot Air Balloon ride 
Glass of bubbly or juice on landing
Digital photo package
2pm Kuranda Scenic Rail Train Ticket
Skyrail Rainforest Cableway Ticket
Your ticket
Walking shoes
Camera
Dress casual outdoor layered clothing. White clothing not recommended.
Peak Hat & sunglasses
Bottle of water
Spending money
Tour Conditions:
Prices are valid for travel until 31st March 2024. Conditions of Travel.
Prices may vary by day, season, and/or availability. Price is displayed at checkout. 
For Passengers with Weight or Mobility queries please phone us to discuss before booking online.
Pregnant persons beyond 3 months (13 weeks) of pregnancy are not permitted to fly.
Prices are $AUD per person.
All times are an INDICATION only. Please note that times do change summer/winter/spring, exact start times given on receipt of your full booking details
100% charge applies if passengers fail to fly on the morning booked. 24 hours notice is required for changes. Re-booking is subject to availability and possible at a fee, please ask us.
Classic flight provides a full flight experience to suit the prevailing flying conditions
Where photos are included in your package, these are subject to availability. Conditions of Travel, 21.4.
For self-drive (drive to meet us) please check and plan your drive according to QLD Dept. of Transport and Main Roads Current Conditions.