Crystals and Opals in Cairns Australia
Did you know that the opal is the most Australian rock of all? If you are looking for specialist jewelry, crystal and opal stores, Cairns has a range of fabulous shopping / retail opportunities to purchase a unique piece of hand-crafted jewelry. Wide variety of choices available, including gold and silver pieces.
Ever wondered where opals came from? Opals are formed from a solution of silicon dioxide and water. When water runs down through the earth, it picks up silica and carries this solution into cracks and voids, caused by natural faults or decomposing fossils. After the water evaporates, a silica deposit is left behind, which is the opal.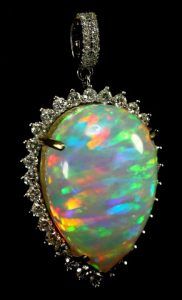 In a cave in Kenya, Louis Leakey, the famous anthropologist, uncovered the earliest known opal artifacts which dated back to about 4000 B.C. Historically, opal discoveries and mining progressed similarly to the ways diamond, emerald, ruby and sapphire were produced. The modern name of the opal is derived from ancient sources: the Sanskrit 'Upala' - which means precious stone; the Latin 'Opalus'; and the Greek 'Opallios' which both mean to see a color change.
Around 97% of the world's precious opal - white, black, boulder and crystal opals - are mined and produced from Australia. Opal mining towns and districts can be found around the edges of the 'Great Inland Sea' in South Australia, Queensland and New South Wales. In Queensland, we produce the unique boulder opals that are found nowhere else! These beautiful opals are ironstone boulders that contain opals as lining in the cracks, or between layers of stone.
The Crystal Caves Museum in Atherton (around one and a half hour drive from Cairns) houses more than 600 pieces of the most perfect, extraordinary, valuable, rare and large crystallized mineral specimens, gemstones, fossils and rocks. Collected from around the world by René Boissevain, the caves were carefully designed to render you breathless at the sight of these pieces. You are free to explore and discover at your own pace, and even touch or photograph the stones.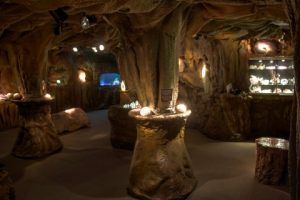 You can find opal and gemstone stores scattered around Cairns city and surrounding areas like Kuranda, Palm Cove and Port Douglas. Most pieces are handmade by experienced locals, whose unique designs cannot be found elsewhere. So if you are passing by, make sure to drop in and check out these treasures.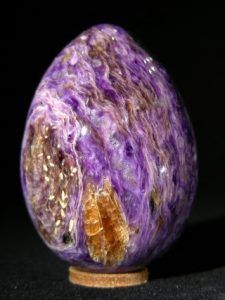 The bottom list here are all the places that you can choose to shop in Kuranda or Cairns, ask your hot air balloon Cairns coach driver to change your transfer from your Cairns hotel and drop you to one of these wonderful local opal shops.
Evert Opals
Evert's have been providing fine quality jewelry to Cairns since 1990. They are a specialist in Opal, Diamond and Fine Jewellery with has a strong focus on quality, unique hand made pieces and great customer service.
Address: 26 Abbott St, Cairns City QLD 4870
Opening Hours: 7 Days, 9am - 9pm
Phone: (07) 4051 2576
Regency Jewellers
Regency Jewellers travel the world to source jewellery that has kept them in step with global styles and fashions. Diamonds and precious gemstones are hand-selected in the gem capitals of the world.
Address: 75-77 Abbott St, Cairns City QLD 4870
Opening Hours: Monday to Saturday, 9am - 9pm; Sunday, 5pm - 9pm
Phone: (07) 4031 2924
Outback Opal Mine
Take a walk through the simulated Opal mine at the Outback Opal Mine to see a variety of rough black, boulder and crystal opal embedded in the wall. Relax on the verandah and enjoy some morning or afternoon tea.
Address: 20-24 Alexandra St, Clifton Beach QLD 4879
Opening Hours: Monday to Saturday 9am - 6pm; Sunday, 9am - 5pm
Phone: (07) 4055 3492
Silver Gem Cairns Australia
A truly overwhelming sensation is felt on arrival at Silver Gem in the Cairns Night Markets. They have one of Far North Queensland's largest collections of 925 Sterling Silver and Natural Gemstone Jewellery.
Address: Shops 83/84 Cairns Night Markets, Cairns City QLD 4870
Phone: (07) 4031 9600
Colonial Opal
Colonial Opal is the largest opal specialist in Cairns, taking great pride in delivering an extensive range of excellent quality solid Opals. They have an alluring range of Black, Black Boulder and Light Opals from all of the Opal producing areas of Australia.
Address: Boland's Centre, 65 Abbott St, Cairns City QLD 4870
Phone: (07) 4031 2466
Kuranda Opal Cave
A family business for 20 years, Kuranda Opal Cave is locally owned and operated. Supplying only the very finest Australian opals, each with it's own unique qualities. All pieces are hand-made in their dedicated workshop.
Address: 7&8/, 25 Coondoo St, Kuranda QLD 4881
Phone: (07) 4093 9499
Opal Time
Opal Time source their opals directly from the mines and manufacture all of their own jewellery. With over 50 years of experience, they offer an extensive range of these gems, including boulder opal, black opal, white opal, and crystal opal.
Address: 5c Coondoo Street, Kuranda, Queensland, Australia
Opening Hours: 7 Days, 10am - 4pm
Phone: 0434 992 741
Silk Road Gems
Whether you are after gemstones, pearls, silver jewellery or gemstone and silver beads, Silk Road Gems has it all. They also stock rough and cut opals.
Address: PO Box 800, Kuranda Qld 4881, Australia
Phone: (07) 4093 8000