Cairns Colonial Club Resort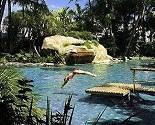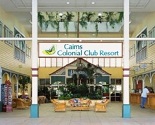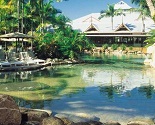 Cairns Colonial Club Resort is situated 7 minutes drive from Cairns CBD and due to it's suburban location, it offers coach transfers to local shopping and to the Cairns city and esplanade. Known for it's lagoon pools and child friendly grounds, the Cairns Colonial Club Resort also has manu unusual plantings and over the years won a number of garden awards.
The Cairns Colonial Club Resort has also been known previously under a range of hotel chain names, Hot Air Balloon Cairns on a daily basis has coach transfers for  guests to enjoy their first hot air balloon ride and offers as well, free transfers with luggage after the ballooning tour. The combination of a relaxing stay at Cairns Colonial Club and a hot air balloon experience is at the top of the list for those visitors that want to get the most out of their Cairns holiday. 
If you choose hot air ballooning while staying here at Cairns Colonial Club, we recommend taking the rest of the day off and relaxing by one of their lagoon pools, you have 3 to choose from. Or try  shopping at one of the suburban shopping centers, air conditioned and most are only a 10 minute drive away.  
Be aware that the hotel is not within walking distance of any restaurants, shops or Cairns tourist attractions. Once again, the Cairns Colonial Club does run very regular coach transfers.
A 15 minute walk from behind the Cairns Colonial Club are the Cairns Botanical Gardens but ensure that you get a very clear map and directions from the Hotel reception, as there are no clear signs or pathways from the hotel. 
Lastly when staying at the Cairns Colonial Club, we always commend getting all your tours to have return transfers included in your ticket, this is especially important for your Great Barrier Reef tour, as the departure marina for all tours is a 10 minute drive from the hotel and on a day so important as visiting the Great Barrier Reef for the first time, you wouldn't want to miss the boat!
Cairns Colonial Club Cairns Accommodation: Images from GOOGLE
18-26 Cannon Street, Cairns, Queensland, Australia

Make a booking Address:
Cairns Colonial Club Hotel
18-26 Cannon Street, Cairns
Queensland, 4870, Australia
Phone: +61 7 4053 8800
Email: [email protected]

Cairns Colonial Club Resort Cairns Accommodation