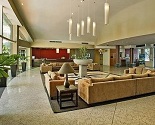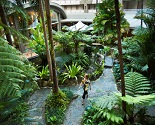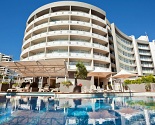 Conveniently situated on the Cairns Esplanade, Double Tree by Hilton Cairns is one of the most popular hotels to stay in Cairns.  The hotel is one block walking distance to Cairns restaurants and cafes, just 2 blocks to the Cairns night markets and three blocks to Cairns city centre.  Double Tree by Hilton Cairns also has one of the nicest walks in the region, just exit the hotel on the Esplanade and stroll along the Cairns Esplanade.  It's a 10 minute walk to the Cairns Reef Fleet Terminal which is the departure point to all the Great Barrier Reef boat trips.  Along the way, walk past informative artwork and plaques, telling the history of Cairns.  Every morning and every sunset you can see a wide cross section of Cairns locals that happily use the Esplanade boardwalk and lagoon for exercise and socialising.  During your stay at Double Tree by Hilton Cairns it's definitely worth walking the Esplanade at least once, just for the people watching!
Hot Air Balloon Cairns offers pick up every morning from the Holiday Inn Cairns, for an exciting ballooning tour.  A scenic drive up the Kuranda range will take you to the launch site in Mareeba on the Atherton Tablelands.  You will then see spectacular and peaceful views of a flotilla of hot air balloons being inflated at dawn, followed by a balloon ride with stunning 360 degree panorama views of the region.  Professional and dedicated drivers, pilots and crew will make your hot air ballooning tour an unforgettable experience.  Inclusions for all Hot Air Balloon Cairns tours are return door to door transfer, expert commentary from your driver, a hot air balloon ride, and commemorative flight certificate.
Double Tree by Hilton Cairns has completed a multimillion dollar renovation of their 237 guest rooms with all rooms given new fresh decor with modern furniture that reflects the tropical environment.  Many rooms also have a curved balcony overlooking the Coral Sea, with views over the Trinity Bay Inlet and across to the rainforest covered mountains on the far right of the hotel.  All guest rooms also open onto the rainforest atrium at Double Tree by Hilton Cairns- a unique tropical oasis in this city located hotel with its shady pool surrounded by tropical gardens.  You can see some very large Australian Barramundi fish swimming coolly in the rock pool on your way to the hotel's dining room.
The rooms feature a work station and views across the Coral Sea or rainforest-clad mountains or Cairns city. Hotel facilities include a swimming pool and spa bath, Sirocco Restaurant and bar, 24 hour reception and room service, a bottle shop that sells Australian wine and spirits, gym, six conference and meeting rooms. Double Tree by Hilton provides guests with both wireless and broadband internet access as well as a fully equipped business centre.
Guests staying at Double Tree by Hilton Cairns will love doing a popular hot air ballooning tour as well as must-do snorkelling/scuba diving trip to the Great Barrier Reef.  It is a short distance away to the departure point for these reef trips (Reef Feet Terminal)  - a very nice stroll along the esplanade feeling beautiful sea breeze of Far North Queensland.  For your convenience, a lot of reef tour operators offer transfers from the hotel so you may wish to check pick up time and extra cost for transfers on the operator's website.
Double Tree By Hilton Cairns Accommodation: Images from GOOGLE
Cnr of Florence St and The Esplanade, Cairns, Queensland, Australia

Make a booking Address:
Double Tree By Hilton Hotel
Cnr of Florence St and The Esplanade, Cairns
Queensland, 4870, Australia
Phone: +61 7 4050 6070

Double Tree by Hilton Cairns Accommodation