Hilton Cairns Hotel – Cairns 5 Star Hotels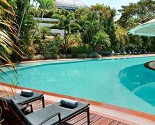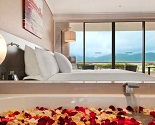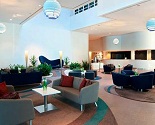 Hilton Cairns Hotel is unique, it faces directly onto water views, with the Coral Sea to the left of the hotel and Trinity Bay inlet views to the right. Positioned directly on the Cairns Esplanade, the hotel has the Cairns Reef Casino located behind it and the Cairns Harbourlights hotel directly across from it.  Hilton Cairns Hotel is also well known locally as one of the very few locations to dine with total water views. Residents of Cairns marvel at the planter box vegetation that each balcony of the Hilton Cairns Hotel has, with the hotel structure seen from a distance as wonderfully green, with the rainforest covered mountain background in the far background.
Hilton Cairns Hotel was the very first international standard hotel chain property to open in Cairns and the Great Barrier Reef and unlike all other Cairns city hotels, it has had continuous management throughout it's time. Hot Air Balloon Cairns is very popular with guests at Hilton Cairns Hotel and offers a daily door to door coach transfer for  guests to enjoy their first hot air balloon ride with door to door transfers from the hotel all inclusive. The combination of a relaxing stay at Hilton Cairns Hotel and a hot air balloon experience is at the top of the bucket list of things to do in Cairns.
Hilton Cairns Hotel has a great hotel lobby bar, we suggest drinks at sunset overlooking the water views and all the vessels from the Great Barrier Reef returning to the marina. 
The Cairns Hilton Hotel is an easy walk from virtually all the Cairns city area, stroll down Spence street just one block and find some unusual shopping, such as  the Greenhouse Environment Shop, operating in Cairns for over 20 years.  They stock a wide range of quality and creative gifts using local materials and cards for all ages, genders and tastes.
They aim to provide an affordable alternative to 'mainstream' shopping and in doing so have become somewhat of a local shopping institution and are rewarded every day by the appreciation and loyalty of their customers. The shop remains true to its roots by donating a percentage of annual profits to local environmental groups and by providing daily support for conservation and social justice groups. Pop in, they're open from 10am - 6pm Monday – Friday; 9am - 1pm Saturdays and closed Sundays.
 If you've worked up an appetite from all that shopping or need to put your feet up, just next door to the Greenhouse is the First House Pho Vietnamese Restaurant. There you'll meet the delightful Luu family who lovingly create authentic and delicious Vietnamese fare with casual ease. A personal favourite is the fresh and tasty rice paper rolls and their famous Pho (beef noodle soup), and they have rave reviews on Trip Advisor, generally with comments like 'great value for money', 'fantastic little gem', 'consistently excellent', "The best Vietnamese in Cairns! It's Pho-nomenal!' They're open for lunch or dinner, for well-priced, fair dinkum Vietnamese food make a reservation or just walk in, it's a 7 minute walk from Cairns Hilton Hotel.  
If you stay at the Cairns Hilton Hotel, we always mention walking to your Great Barrier Reef tour, as the Cairns Reef Fleet Terminal where all reef tour boats depart from, is literally 2 minutes' walk from the front door of your hotel.
Cairns Hilton Hotel Cairns Accommodation: Images from GOOGLE
34 Esplanade, Cairns, Queensland, Australia
Make a booking Address:
Cairns Hilton Hotel
34 Esplanade, Cairns
Queensland, 4870, Australia
Phone: +61 7 4050 2000
Email: [email protected]

Cairns Hilton Hotel Cairns Accommodation