Pullman Reef Hotel Casino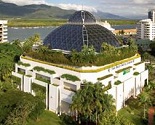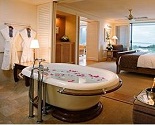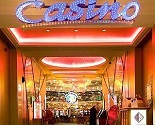 Pullman Reef Hotel Casino has one of the best locations in Cairns, located on the edge of Cairns city it is at the beginning of the Cairns Esplanade and the Cairns Cruise Liner Terminal, with views south to the rainforest covered ranges across Trinity Bay inlet. The Pullman Reef Hotel Casino has also been known previously as The Cairns Sofitel Hotel, the Pullman Cairns Reef Hotel and Casino and The Reef Casino. Hot Air Balloon Cairns has daily coach transfers for the Pullman Reef Hotel Casino guests door to door, to experience hot air ballooning over the outback and rainforest just beyond the mountain range that circles Cairns. The blend of a luxurious break at Cairns Reef Casino Hotel and a hot air balloon experience is absolutely one of the best things to do in Cairns for couples.
If you pick hot air ballooning while at Cairns Reef Casino Hotel, we recommend taking it easy after your coach transfer returns mid morning, stroll the shops that are all one block from the hotel or choose a local café and people watch, the Cairns Esplanade or The Pier Cairns are both great spots to sit and relax with a coffee, a wine or a beer.
Cairns Reef Casino Hotel has an excellent restaurant, known to locals as the place to go for a special occasion, when only the best will do. Tamarind Restaurant offers the highest standard of Asian-Australian cuisine, winning well deserved restaurant awards.
When holidaying at the Cairns Reef Hotel Casino, we always recommend walking to your Great Barrier Reef tour, as it's directly across the road and half a block walk to Cairns Reef Fleet Terminal or Marlin Marina. If your Great Barrier Reef ticket is with Quicksilver, Great Adventures, Big Cat Green Island Reef Cruises, Ocean Spirit or Reef Magic or Passions of Paradise all of these reef tours are located off the same marina.
The other advantage of staying at Cairns Reef Hotel Casino is the easy access to so many Cairns Restaurants, in a 2 block radius there are over 50 different restaurants and cafes. We suggest if you want to taste aussie tucker, then it's one block walk to Dundee's Restaurant on the Waterfront or Bushfire Flame Grill both have excellent Australian menus. And due to the number of international visitors coming to see the Great Barrier Reef, Cairns has a long history of little boutique restaurants serving food from all around the world, so if you want Italian restaurants in Cairns or Greek or Indian restaurants then there are multiple choices, but watch the prices!
With the quality and quantity of seafood in Cairns definitely a choice during your stay at the Cairns Reef Casino Hotel could be a Seafood Restaurant and if you like your seafood done with an international twist there are some excellent Japanese restaurants in Cairns as well as Chinese Restaurants using a wide array of local barramundi and tuna.
And to finish off a day after hot air ballooning, stroll across the park from the Cairns Reef Casino Hotel and enjoy sunset drinks at the Salt House Restaurant and Bar, which has the best total waterfront views, almost as good as the hotels.
Cairns Reef Casino Hotel Cairns Accommodation: Images from GOOGLE
35-41 Wharf Street, Cairns, Queensland, Australia

Make a booking Address:
Cairns Reef Casino Hotel
35-41 Wharf Street, Cairns
Queensland, 4870, Australia
Phone: +61 7 4030 8888
Email: [email protected]

Cairns Reeef Casino Hotel Cairns Accommodation