Riley, a Crystalbrook Collection Resort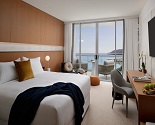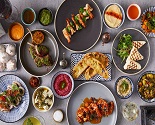 Riley, a Crystalbrook Collection Resort is a 5 star hotel that opened in Cairns November 2018 on the Esplanade in the City, just walking distance to the Reef Fleet Terminal, Muddy's Cafe and DFS Galleria. Riley is the first one of the three Hotel in the Crystalbrook Collection coming to Cairns, with Bailey opening mid 2019 and Flynn opening late 2019.
Previously known as Rydges Tradewinds, Riley has undergone a full renovations with Crystalbrook Collection philosophy of #responsibleluxury where environmental initiatives are introduced to their guests to enhance their stay. The Crystalbrook is serious about conservation and sustainability, with a no plastic straws policy and a variety of partners, they use recycled and biodegradable materials. Crystalbrook are citizens of the Great Barrier Reef, which is a new type of movement bringing organisations, people and projects from around the world together for a collective global impact on all matters that affect our planet, from renewable energy, reduction in waste to protection and restoration of our reefs.
Riley, a Crystalbrook collection resort features 311 rooms & suites, a thousand square meter swimming lagoon with its own man made beach and 3 restaurants, one being Rocco the city's highest rooftop bar and restaurant. Rocco is a contemporary take mediterranean on cuisine, with locally sourced produce delivering aromatic and mouth watering dishes from a 270 degree panoramic view of Cairns and the sea.
Paper Crane offers dining in Cairns with the sights and taste of Asia. Queensland's Tropical fresh produce boosts the modern Asian inspired menu. With the kitchen brining the theater to dining, where whole crustaceans and large cuts are shared and presented table side. 
Greenfield's is all things raw and simple yet anything but boring, the menu offers wholesome options to nourish and energise. It's not just salad, sit back and be inspired with the ancient grains, sustainable fish and grass-fed meats.
Hot Air Balloon Cairns includes return coach transfers from Riley Crystalbrook collection everyday of the year to enjoy to enjoy your hot air balloon experience.
Riley, a Crystalbrook Collection Resort: Images from GOOGLE
131-141 Esplanade, Cairns, Queensland, Australia
Make a booking Address:
Riley,a Crystalbrook Collection Resort
131-141 Esplanade, Cairns
Queensland, 4870, Australia
Phone: +61 2 9048 4444
Email this Hotel
Riley, a Crystalbrook Collection