Rydges Esplanade Resort Cairns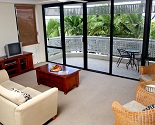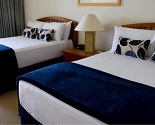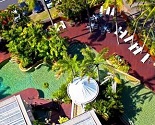 Situated on the esplanade in Cairns, you will find the Rydges Esplanade Resort Cairns. Ideally positioned just a 10 minute walk along the charming boardwalk from the Cairns CBD to the Cairns Reef Fleet Terminal, the Rydges Esplanade Resort is suitable for families, couples, singles and business travellers. Offering four different styles of rooms, all overlooking the Coral Sea, the Rydges Esplanade Resort has a style of accomodation to suit all tastes and budgets. Boasting such facilities as resort swimming pools which are surrounded by lush landscaped gardens as well as a tennis courts, onsite Fitness Centre, masseuse services and onsite dining. You will be sure to relax during your stay at Rydges Esplanade Resort Cairns.

You can unwind in the CHB bar with a drink and a selection from their mouth watering tapas menu or dine in the restaurant for Mains that will settle the fussiest eaters. With the skill to serve a dinner personalised to your tastes, the CHB bar and restaurant really is great value. Indulge in a delectable Tajima Wagyu Rump steak, cooked to your liking and with your choice of marinade. You won't want to eat anywhere else.

While you stay at the Rydges Cairns Esplanade Resort, why not go hot air ballooning? You will be collected from the hotel's front door to enjoy hot air ballooning over the country backdrop of the Atherton Tablelands. You will see all different types of plantations, Granite Gorge and the rolling hills of the Tablelands as you enjoy the sensation of floating silently on board your hot air balloon basket. Return back to Rydges Esplanade Resort Cairns and connect up to your next activity or to just enjoy a leisurely breakfast at the hotel or enjoy the hotel's facilities and swimming pool. Most tour operators, including hot air balloon Cairns,  will offer transport from the Rydges Cairns Esplanade Resort, don't forget to reconfirm any pre-booked tours as the pickup time may vary summer to winter.

Finish your day of touring peacefully on your balcony, overlooking either the Coral Sea or the backdrop of the Cairns mountain ranges, see the stunning sunsets that Cairns is renowned for. Watch as the Cairns locals bring their families down to enjoy the Cairns esplanade with BBQs, beach volleyball, tennis courts and just to walk the lengths with a friend to catch up. The mud flats of the Cairns esplanade are popular with the local birdlife and those who bird watch like to watch them. Kick back in your room with the latest movies on Austar and widest range minibar available. Feel like a midnight snack? The Rydges Esplanade Cairns Resort has you covered with 24hour room service.
Rydges Esplanade Resort Cairns Accommodation: Images from GOOGLE
209-217 Abbott Street, Cairns, Queensland, Australia

Make a booking Address:
Rydges Esplanade Resort Cairns Hotel
209-217 Abbott Street, Cairns
Queensland, 4870, Australia
Phone: +61 7 4044 9000
Email: [email protected]m.au

Rydges Esplanade Resort Cairns Accommodation