Shangri-la Luxury Hotel in Cairns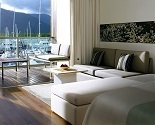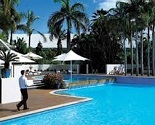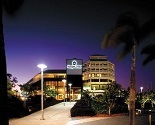 Located directly overlooking the Cairns Marina with views to the wonderfully green rainforest covered mountains of Trinity Inlet, the Shangri La is truly Cairns Five Star Hotel. Situated in the heart of the city, the Shangri La is just a stroll to all the very best restaurants, is one minute's walk from all the best cruise boats departing daily for the Great Barrier Reef and has absolutely the best bar with water views in Cairns.
 
The Shangri La hotel hosts guests from all over Australia and is very popular with visitors from the USA, Europe, Japan and China. On a daily basis there is a wide range of Cairns tours and activities for guests such as Hot Air Balloon Cairns with air conditioned coach transfers every day of the year taking off to enjoy their first hot air balloon ride with door to door transfers from the hotel all inclusive. The combination of a relaxing stay at the Shangri La Cairns and a hot air balloon experience is at the top of the list for romantic things to do in Cairns for couples.

If you choose hot air ballooning while staying here at the Cairns Shangri La, we suggest taking the rest of the day off and relaxing by their resort pool, a well of serenity, in the centre of the hotel. Otherwise shopping is definitely the best thing to do when staying at the Shangri La Cairns, with local art galleries, DFS Galleria Cairns, Duty Free, opal and jewellery stores as well as souvenir and fashion stores all within a five minute stroll.

It's also easy to choose Cairns Restaurants when you stay at Shangri-la Cairns too, as within 2 blocks walking distance there are over 50 different restaurants, cafes and bars that offer over 14 different types of international cuisine. We suggest if you want to taste aussie tucker, then it's one block walk to Dundee's Restaurant on the Waterfront or Bushfire Flame Grill both have excellent Australian beef and other specialties like kangaroo steak and
Or if you would like Chinese food there are 6 different Chinese restaurants within a short walk, choose from Golden Boat Chinese Restaurant, Taste of China, Café China, China Palace and Jade Plus which is excellent Chinese food but a Cairns taxi ride away from the hotel.
Or if you prefer Japanese food, Cairns city with it's reputation as a fishing port has excellent sushimi and sushi and the Shangri la concierge will happily guide you to one of over a dozen choices within four blocks of the hotel.


Lastly when staying at the Shangri-la Hotel, we always recommend walking to your Great Barrier Reef tour, as the departure from the Marina for all tours is only 100 metres from the hotel and it is a very easy stroll through the gardens and marina to the Reef Fleet Terminal or Marlin Marina. If your Great Barrier Reef ticket is with Quicksilver , Great Adventures, Big Cat Green Island Reef Cruises, Ocean Spirit or Reef Magic or Passions of Paradise all of these reef tours are located off the same marina and only walking distance from your hotel room at the Shangri-la.
Shangri-la Luxury Hotel Cairns Accommodation: Images from GOOGLE
Pier Point Road, Cairns, Queensland, Australia

Make a booking Address:
Shangri-la Hotel Cairns
Pier Point Road, Cairns
Queensland, 4870, Australia
Phone: +61 7 4031 1411
Email this Hotel
Shangri-la Cairns Accommodation