Atherton Forest Mountain Bike Park – Bicycles and Balloons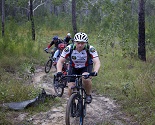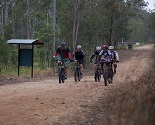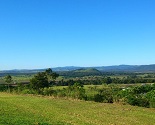 The Atherton Tablelands is famous and becoming more and more popular for a new reason, other than the waterfall circuit and the Curtain Tree Fig and the new popularity is with cyclists particularly with its Atherton Forest Mountain Bike Park that has magnificent flowing single track, family trails, epic mountain bike rides and scenic back country road rides. The Tablelands is located west of Cairns, up in the highlands, well into the tropics, so its elevated position provides a climate suitable for dairy farming and for cycling. As the locals say, it's naturally air-conditioned.

The Atherton Tablelands has something for everyone whether you ride for fun, or push yourself to the limit. Riding in the Atherton Forest Mountain Bike Park in Baldy Mountain Forest Reserve and Herberton Range State Forest is a great way to spend your day ; Ride some of the newest single track in Australia, only 2 kilometres from the main street in town of Atherton. The majority of the trails are easy (green level as per the IMBA standard) and are well suited to mountain bike ride beginners. All these trails on Atherton Forest Mountain Bike Park Map are rideable on a hard tail cross country bike but an all-mountain bike on Trail 6, a brand new 6km section also known as 'Ridgey Didge', is very exciting.

Winding paved country roads on the Atherton Tablelands lead to spectacular lookouts and waterfalls, including the world famous Millaa Millaa Falls. Traffic is not heavy on these roads and with the mild temperatures, you can experience for yourself why the Tablelands is getting increasingly recognised by cyclists from inter-state and overseas.

There are so many other things to see and do on the Atherton Tablelands - bush walking, mountain bike riding, bird watching, hot air ballooning and water sports. Camping, fishing and sailing at Lake Tinaroo is also very popular with visitors as well as Cairns locals. Hot Air Balloon Cairns operates balloon tours every day of the year in Mareeba, ;as the northern Tablelands have a drier climate making take off conditions for the fleet of balloons at sunrise much more reliable. If you're staying in Atherton or Yungaburra or Mareeba, drive to Mareeba Heritage Centre where your balloon trip starts from. After a short drive on-board a Hot Air coach, you'll arrive to see a spectacular sight of hot air balloons being inflated at dawn. Then hop on board to experience the magic of floating gently up, up and away in a balloon, over the Tablelands with views as far as the eye can see. As the ballooning tour takes place early in morning, return time back to the Heritage Centre is 9am which gives you a whole day riding to explore the Atherton Tablelands after enjoyed its views from the air.

Atherton Tablelands is a popular holiday destination in Tropical North Queensland for its cooler climate, majestic mountains, beautiful ancient lakes and unique villages. If you are into cycling, then this is one of the best places in Australia for its roads and tracks and so much more to do. And did we mention the coffee is excellent and grown locally too.
Atherton Forest Mountain Bike Park
Atherton Tablelands, Queensland, Australia
Atherton Forest Mountain Bike Park, Department of National Parks, Recreation, Sport and Racing website for Park Alerts - Link here
Atherton Forest Mountain Bike Park map