Cairns Esplanade with the Cairns Swimming Lagoon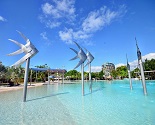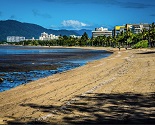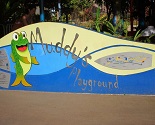 Established some years by the Cairns community, this is a very popular spot with visitors, especially since free wifi was introduced in April 2014. When you look for Things to Do in Cairns, spending some time at Cairns Lagoon is one of the most popular. Cairns Esplanade is a great place to enjoy the warm Tropical North Queensland's sun, both locals and visitors visit the Esplanade and Lagoon every day. It really is a place for everyone; couples enjoying a nice board walk along the water's edge, families enjoying picnic or barbecue on grass area, backpackers from all around the globe sunbaking by the Lagoon and visitors enjoying a beautiful view after lunch or during early evening dinner.

Some visitors even spend time at this large swimming Lagoon every day. It's open from early morning till 9pm every day, facilities with shower and toilet blocks just by the lagoon, there are always the Lifeguards watching for your safety, wheelchair accessible, and it is all free. The Cairns Lagoon on the Esplanade is artificial 4800 square km salt water swimming pool, water is always clear and so refreshing. Shops and cafes are just over the street; no better places to relax and chill out.
 
There is a full shower block, free to use after your swim, as well as BBQ Cooking plates that are popular with groups of families and friends. There are a number of local small supermarkets within 2 blocks walk, so if you'd like to cook up your own aussie barbeque for lunch or dinner, with some local prawns and reef fish and some delicious tropical fruits and salads, the Cairns Esplanade Lagoon picnic BBQ's and tables, is definitely the place to do it. Remember, it's popular with Cairns locals in school holidays as well as Friday and Saturday evenings.

A day spent at the Cairns Esplanade Lagoon is the perfect way to enjoy some sun, refreshing swim with gorgeous views.
Cairns Swimming Lagoon and Esplande: Images from GOOGLE
Cairns Esplande, Cairns, Queensland, Australia

Cairns Esplanade Office
52-54 The Esplanade, Cairns
Queensland, 4870, Australia
Phone: +61 7 4044 3715
Email: [email protected]

Cairns Esplanade and Swimming Lagoon