Novotel Cairns Oasis Resort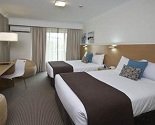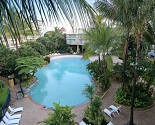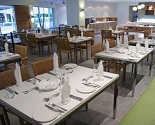 Novotel Cairns Oasis Resort is located only 100 metres away from the centre of Cairns and is situated one block back from the Esplanade waterfront.  While staying at Novotel Cairns Oasis Resort you will be surrounded by all of Cairns city's premier restaurants, nightlife and shopping and within easy walking distance to Reef Casino, famous Cairns Night Market and Reef Fleet Terminal where Great Barrier Reef boats depart daily. 
Hot Air Balloon Cairns offers door to door transfer from Novotel Cairns Oasis Resort daily.  Hot Air ballooning here in Cairns is a must do activity and truly one of Australia's best kept secrets.  Just imagine how stunning it would be to start your day by watching the sun rise over the rolling hills of the majestic Tablelands then experience the wonder, silence and romance of floating in a hot air balloon.  The 360 degree panorama view from floating balloon is simply breathtaking.
It is just an easy stroll from Novotel Cairns Oasis Resort to the esplanade activity precinct where there is miles of oceanfront boardwalks, children's play areas, large grassy parklands and the famous esplanade lagoon (swimming pool) which attracts hundreds of visitors each day.  The resort is located in the heart of Cairns with award winning 2-hectares tropical gardens and has the largest lagoon style pool in the city centre, complete with its own white sandy beach and swim-up bar for enjoyment of guests.
You will forget that you are in the heart of the Cairns city at this tropically designed resort, embracing the natural surroundings - flowing waterfalls give way to the sparkling pool and tropical gardens that are home to many chirping native birds.  Swim up to the Aqua Bar for that favourite cocktail or relax with a pre dinner drink in the Novo Bar.  A lunch and snack menu is available at the Aqua Bar daily.  Guests at Novotel Cairns Oasis Resort also enjoy modern a la carte dining at newly launched Mizuna Restaurant.   The restaurant has a modern and sophisticated dinner menu but also with casual atmosphere in tropical settings. 
The majority of guests staying at Novotel Cairns Oasis Resort book a day trip to the famous Great Barrier Reef as well as the unforgettable experience of hot air ballooning.  Enjoy a nice stroll along the esplanade to the Reef Fleet Terminal & Marina where the reef trip boats leave from.
The Hot Air ballooning tour includes: return air-conditioned coach transfer / spectacular hot air balloon ride / expert interpretive commentary by your driver and pilot / cross country hot air balloon chase.
Novotel Cairns Oasis Resort Cairns Accommodation: Images from GOOGLE
122 Lake Street, Cairns, Queensland, Australia

Make a booking Address:
Novotel Cairns Oasis Resort
122 Lake Street, Cairns
Queensland, 4870, Australia
Phone: +61 7 4080 1888
Email: [email protected]

Novotel Cairns Oasis Resort Cairns Accommodation